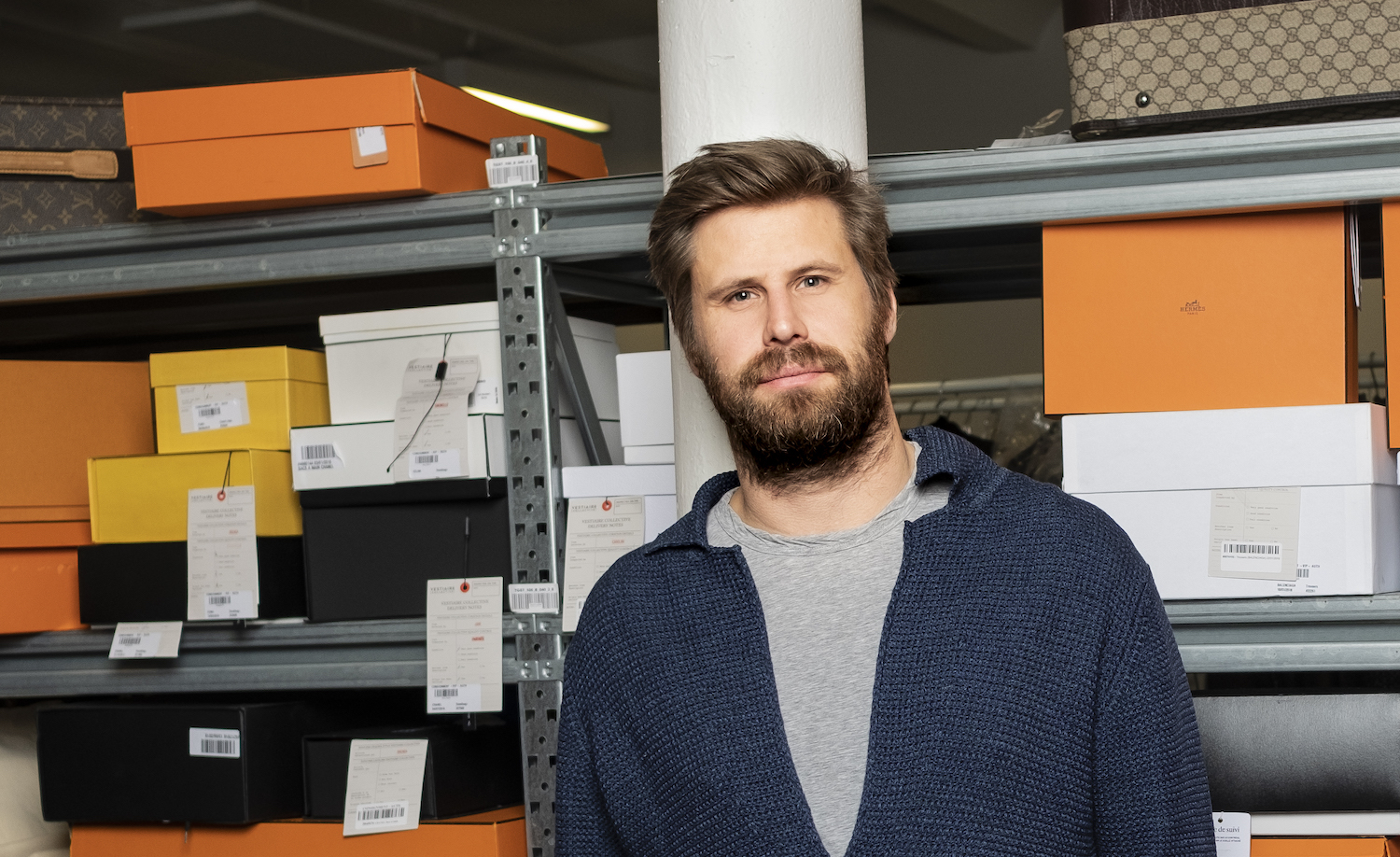 Former Lazada founder and CEO Max Bittner wants to talk shopping. He's just bought some new sneakers, a Balenciaga hoodie, and some cashmere sweaters.
"I haven't had a winter wardrobe for seven years," he says. That's because of Singapore's never-ending heat and humidity.
Now that he's moved on from the groundbreaking Southeast Asian startup he launched in 2012, he's getting used to life in Paris, France. Plus, he needs to buy a lot of clothes.
And if he's name-dropping some couture brands, that's because he's now the CEO of Vestiaire Collective, a marketplace for pre-owned luxury fashion. In a cute twist of ecommerce, some people call this "recommerce."
Perfect storm
"After I left Lazada, I spent a bit of time figuring out what to do with the rest of my life," Bittner, 40, tells Tech in Asia. "I was still fairly young and full of passion and excitement for what I do."
He explains that the question of what to do next wasn't so much shaped by whether to do another startup or take a position at an established firm as by finding the right kind of opportunity.
And that's what he saw in the French online store, which started in 2009 and is now pushing into Asia. Bittner, who hails from Germany, started as CEO of the store on January 1 this year.
"In many ways, I see the similarities in the opportunity to what I saw at Lazada," he says.
He believes there's "a perfect storm of super trends" around the world that bodes well for his new gig and, indeed, the whole luxury fashion segment. According to Bittner, those trends include the following:
There's a generational change in consumer behavior and a rethinking of the nature of ownership.
People are concerned about sustainability, while also wanting new and fresh things to show off on Instagram.
The luxury fashion market is now dependent on China for a big chunk of sales and a lot of growth.
"And if you look at those three things and the opportunities, I think Vestiaire is amazingly positioned," he says.
Asian connection
With 340 employees globally, Vestiaire ships the pre-owned items to 50 countries from its four hubs – two in France, one in New York, and one in Hong Kong with 20 staffers. Most of its shoppers are in mainland Europe, the UK, the US, and Asia.
Bittner, who has invested some of his own cash in Vestiaire, was installed as CEO in part to expand the marketplace to Asia. The startup has raised US$130 million over the years, including from media giant Conde Nast, publisher of Vogue – a magazine that's given the marketplace a lot of coverage, with frequent roundups of what celebrities – from Chloë Sevigny to Kim Kardashian – have been buying or selling in the app.
So far, Vestiaire has launched in two of Asia's poshest markets – Singapore and Hong Kong – for both sellers and buyers. Singapore shoppers get deliveries from the Hong Kong hub.
It's also open to buyers in some other Asian countries, but not yet for mainland Chinese shoppers, despite the huge buying power of those consumers.
"We're also assessing where the other big opportunities in Asia [are]," says the ex-banker and former Lazada exec. But there's no word yet on where exactly.
Vestiaire's four hubs are crucial to the store as that's where the pre-owned items are sent by sellers to get a manual, physical inspection – like this authenticator checking a pair of Gucci heels:
Or this dude assessing a Rolex:
Only items that are authentic are passed on to the buyers.
The store has 900,000 products listed, with 3,500 new ones added by sellers daily.
With the average item sold for around US$500, Bittner says the unusual amount of manual labor involved by ecommerce standards is "a small part" of a relatively large purchase.
Bittner explains the store has a mix of individual sellers and "power merchants," with the startup also making money from an optional "VIP" service, similar to Fulfillment By Amazon, involving Vestiaire writing the listing and taking photos of the item before shipping it from their warehouse. It takes a 25 percent commission on sales made by smaller sellers, an average of 15 percent from larger ones, and an average of 35 percent from the VIP service.
Walk a mile in my shoes
Buying pre-owned designer items isn't a new idea, but it's slowly taking off as apps make it easier and safer for both buyers and sellers.
While Harper's Bazaar describes Vestiaire as a "favorite" site among its fashionista team, there are dozens of such marketplaces.
As Vestiaire grows across Asia, it'll bump up against Singapore's Reebonz, which has a selection of new and used couture items. The pre-owned pieces also get a manual authentication check.
The luxury fashion market was worth US$293 billion last year, with Bain predicting growth to as much as US$410 billion by 2025.
Citing experts, Bittner says recommerce is now a US$28 billion market and it will double by 2020.
When it comes to luxury items, which hold their value well, he reckons the potential is huge because it could become like the used car market, where 50 percent of cars sold are pre-owned.
And that might incentivize people to buy more designer stuff.
"If you buy something expensive, and you know you'll be able to sell it in the future at 60, 70 percent, in six, 12, 18 months, your attitude to shopping will completely change," says Bittner.
That would get people thinking not about "buying consumables" but instead "buying assets," he adds.
Ride of a lifetime
Looking back on Lazada, which was sold to China's online shopping giant Alibaba in 2016, Bittner describes the venture as a "once-in-a-lifetime ride."
After two years of sticking around and working with Alibaba executives at Lazada, he felt it was time to move on toward the end of 2018.
"The timing was, I think, good."
He adds: "Personally, after leaving Lazada, the Southeast Asia story was a bit 'been there, done that.' It was very hard to top something like Lazada. So I think it was a very natural break for me to go back [to Europe] professionally, but also personally, because I think me and the family wanted to head back home. So the opportunity of moving to France – my wife is French – was very good."
During that two-year stint when he overlapped with the Chinese tech titan, Bittner enjoyed working with Alibaba CEO Daniel Zhang, co-founder Joseph Tsai, and other senior executives.
Learning an "immense" amount about ecommerce from Alibaba's top brass, Bittner also got a sense of how Alibaba does ecommerce so differently from almost anyone else.
"I think in many ways, Asian ecommerce has evolved faster than European and American ecommerce," he states. "I think American ecommerce and European ecommerce is influenced still by Amazon – it's very much about search, add to cart, checkout. You know, extremely efficient."
"I think Daniel Zhang said it best than I've heard anyone say it: Amazon is an extremely efficient place to shop, while Alibaba is much more around the browsing experience, the discoverability, the gamification, the engagement part, the social component," he adds.
And it turns out that Alibaba, in Bittner's assessment, was ahead of the curve in finding the way that millennials and Generation Z prefer to shop – and that generational shift is global.
"In Shanghai or Jakarta, for example, they consume in the same way as a French, digital-first, mobile-first person is consuming," he explains.
"That's what I want to replicate, and bring a lot of these learnings that I was fortunate to have," says Bittner.
Converted from euros. Rate: US$1 = €0.89